Κωδικός: DM8
DM8
Digital mixing console , 8 channel – 6 mic inputs, 1stereo inputs, 2 XLR outputs, 2 bus, 4 Effects Modules ,2 reverb ,2 Delay, WIFI connecting to USB wireless module,1 LAN interface
Περιγραφη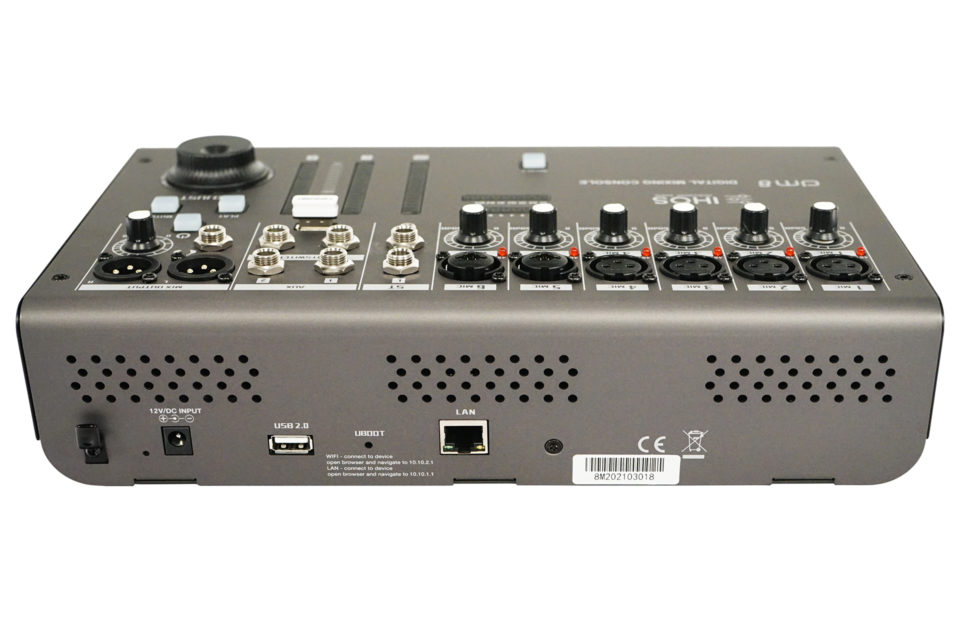 Technical Specifications
Microphone input: 6 channels, 2 Combo XLR.
Channel input: 1 pair of stereo, 2 jacks.
Main output: 2 XLR.
AUX output: 2 jack outputs.
Footswitch: 2 jacks.
Monitor: 1 jack.
Mic input impedance: 3K.
Line input impedance: 20K.
Output impedance: 75Ω.
Headphone output impedance: 100Ω.
BUS remaining output noise: -90 dBu.
Maximum voltage gain: 80dB input to output.
Dynamic Range: 106dBu (20Hz – 20 kHz).
AD/DA: Maximum 24bit / 48 kHz supported.
Signal processing: 40bit floating point processor.
Signal latency: <1.8 msec input to output.
Phantom power supply: 48V, each channel can be switched individually.
Crosstalk @1kHz: -85dB.
USB interface: 2 USB 2.0 interface, maximum 32G supported, can be used for USB disk playbak and recording, supports WAV & MP3 formats
Network: WiFi connecting to USB wireless module, 1 LAN interface.
Effects: 4x effect modules, 2 reverb, 2 delay.
Power supply: DC adapter (AC 100/240 Volt AC, 50/60 Hz).
Οι τιμές δεν συμπεριλαμβάνουν ΦΠΑ.