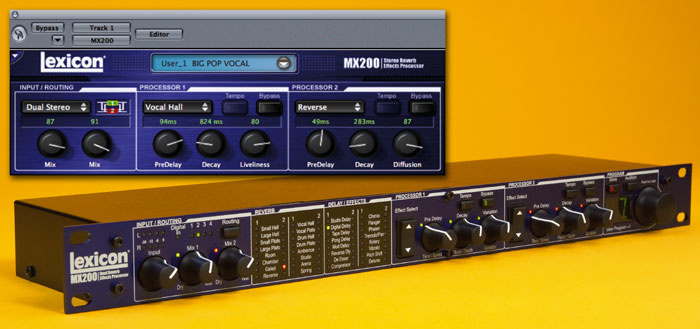 Κωδικός: Lexicon MX200 Dual Reverb/Effects Processor
Lexicon MX200 Dual Reverb/Effects Processor
Περιγραφη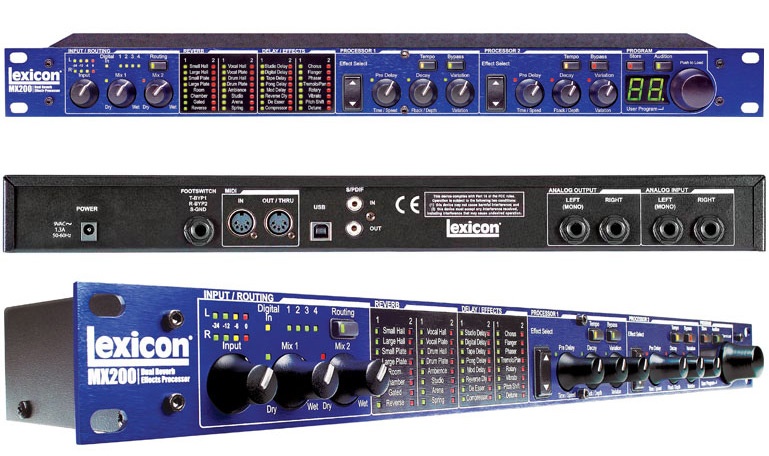 Description
OVERVIEW
Whether you're looking for raw processing power with instant front-panel access for live performance, or seeking rich, smooth and complex processing algorithms in the studio, Lexicon brings the best of both worlds together in the MX200 Dual Reverb Effects Processor. The MX200 is a dual-processor, single rack space multi-effects processor designed with both live sound reinforcement and home recording in mind. Featuring the deep, rich reverb and effects algorithms that built the Lexicon® legend, the MX200 offers increased versatility with dynamics and specialty effects — all instantly accessible via the extremely intuitive front panel.
STUDIO OPERATION
In the studio, advances in computer-based recording have led many engineers to value the instant control and heads-up use of plug-in effects — but many still yearn for the rich, complex sound of a dedicated proces-sor. Now, Lexicon provides a USB interface with an intuitive cross-platform VST plug-in window, allowing the MX200 to function as a "hardware plug-in" — recog-nized and functioning within a VST-compatible DAW as a plug-in effect, but still operating as a dedicated hardware unit. This unique USB plug-in feature allows MX200 users to easily add legendary Lexicon effects to their computer-based recordings within the graphi-cal interface that appears in the recording application like a plug-in, with full automation and recall features. Now software-based recording engineers can enjoy the legendary Lexicon reverbs and effects, and stay focused on the heart of their studio — the application window of their recording software.
LIVE OPERATION
Those using MX200 in the live arena will appreciate its at-a-glance front panel layout, which constantly indicates which two effects are active, and features independent control areas for each processor. Three control knobs for each effects processor give instant, precise and meaningful control over the most critical parameters for the selected effect. The MX200's 99 Factory Presets are meticulously prepared for maximum usability.
SPLIT PERSONALITY
Either way you choose to use the MX200 — live or in the studio — you can choose two effects at once in one of four routing schemes: Mono Parallel, Mono Sum to Stereo, Stereo Serial, or Stereo Parallel. Featuring 99 carefully crafted factory presets, and 99 User programs that allow you to create your own legendary effects. Front panel controls include Input Level, Effects Mix, Effects Balance, Audition button (to preview the selected effect), independent Tempo, Bypass and 3 control knobs for each Processor, Preset Wheel, Conï¬ÂÂÂÂÂ?guration and Store buttons.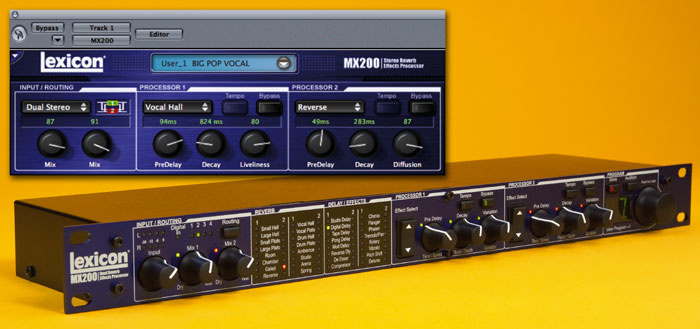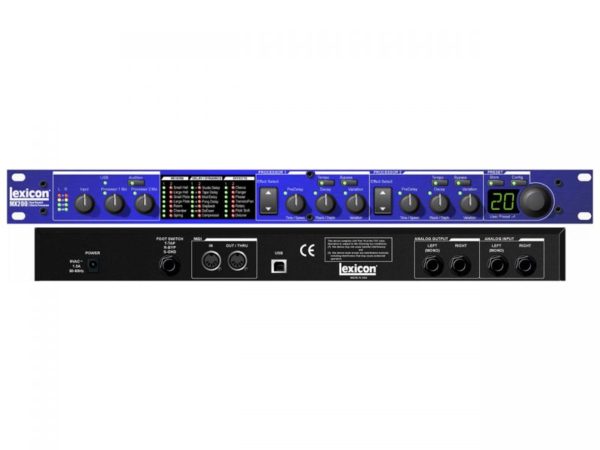 Οι τιμές δεν συμπεριλαμβάνουν ΦΠΑ.