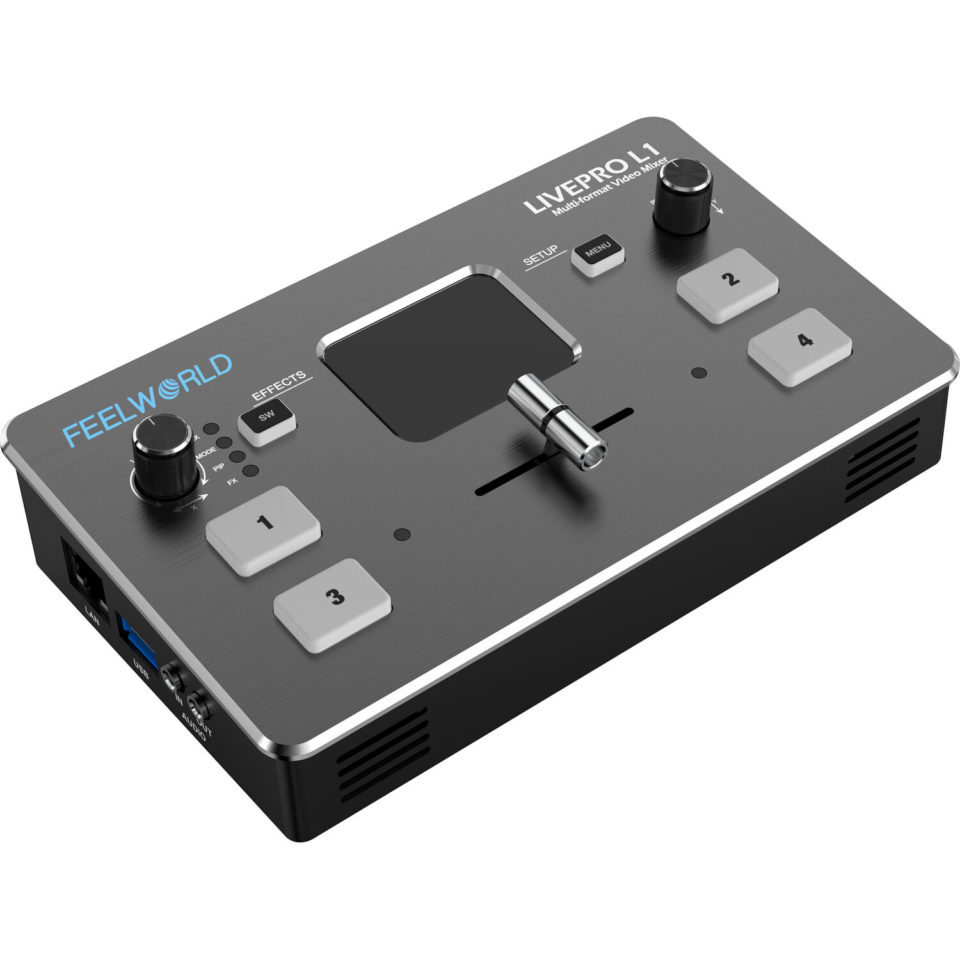 Κωδικός: video mixer LIVEPRO L1
Multi format video mixer, 4xHDMI inputs, USB 3.0 live stream output, lan port, audio input/output , TFT display for 4 inputs and menu, Flexible T-Bar Switching, live broadcasting platform via third party live streaming software such as OBS.
Περιγραφη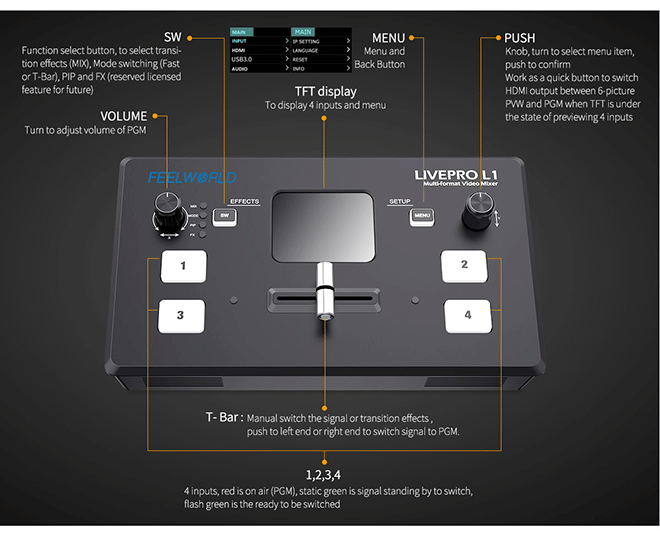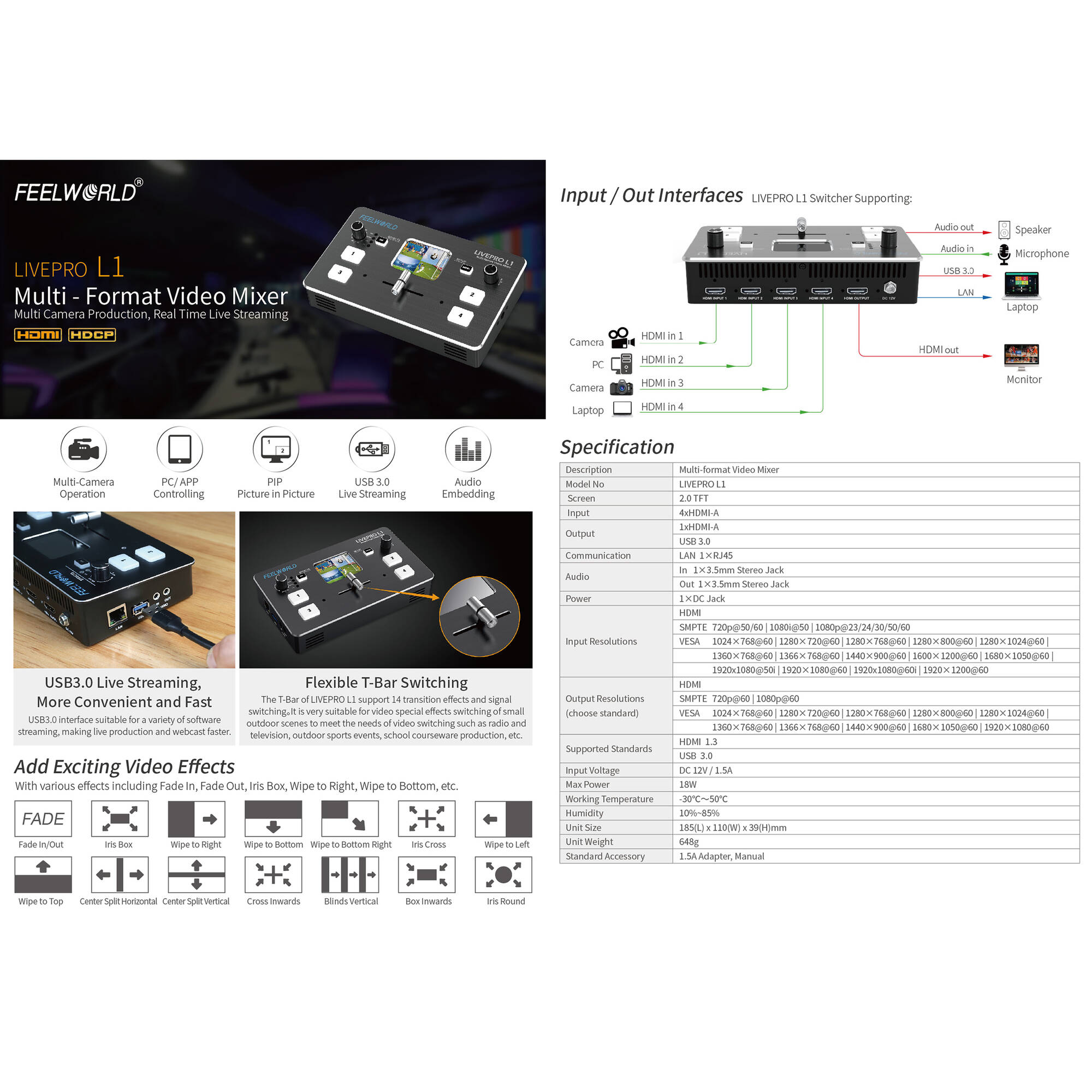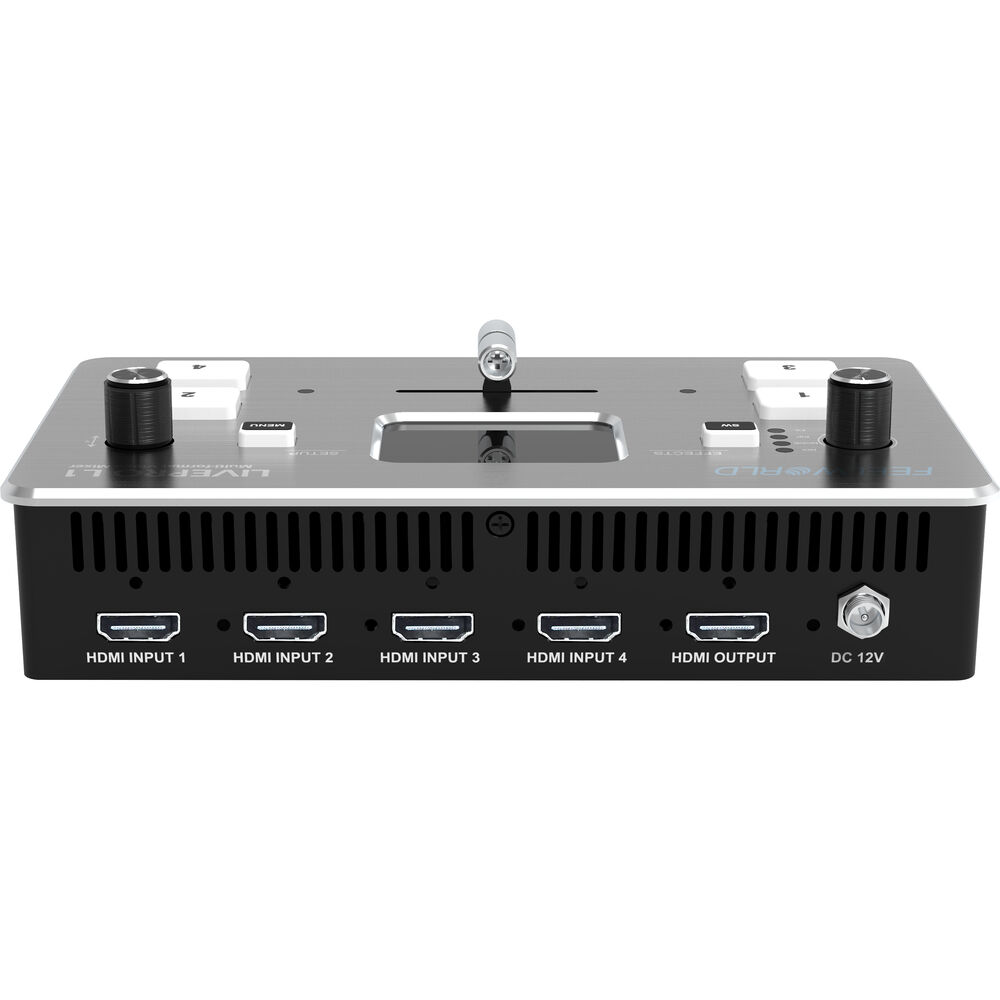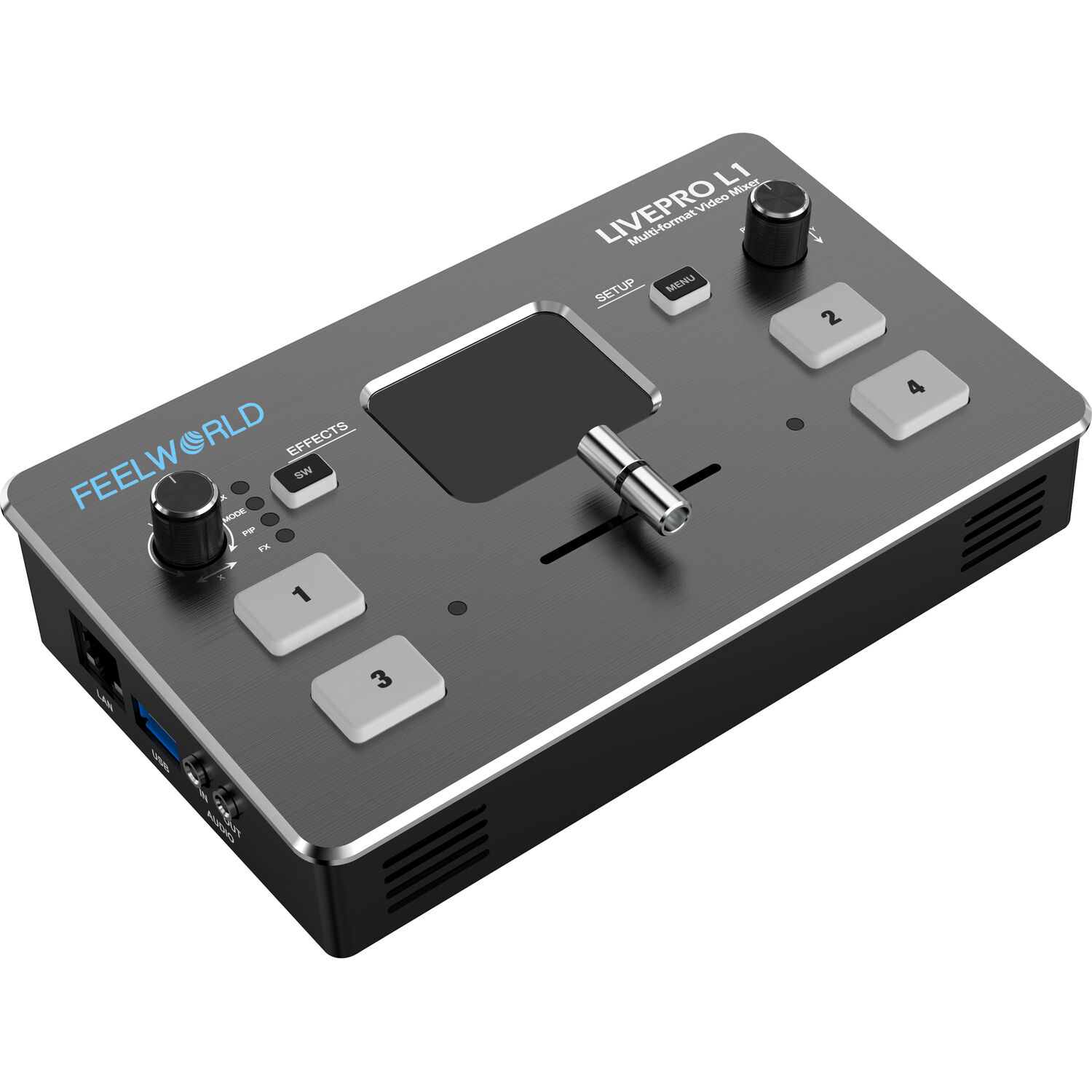 Features
2"TFT display on board to live preview 4 inputs
Auto cut and manual switch (T-Bar)
USB capture video complying with UVC for live streaming
Audio offers embedded or external source to select
Support switch between 6-picture PVW and PGM to HDMI out
Support PIP
14 transition effects on T-Bar
Control by PC or Smart phone (via APP)
Description
LIVEPRO L1 V1 with 4 CH HDMI inputs and 1 HDMI output, all of them support 1080p. For live streaming, there is a USB3.0 interface. And plus, the LAN port for controlling and upgrading; for audio, it has 2 interfaces, one for input, and the other one for output. All of these make it easy to create professional multi camera productions. It is able stream any one from the 4 HDMI inputs to any live broadcasting platform via third party live streaming software such as OBS. Simply connect LIVEPRO L1 and you can switch live between 4 high quality video camera inputs for dramatically better quality images. Or connect a computer for PowerPoint slides or gaming consoles.
Easy Live Streaming
Live production is the fastest way to complete a finished program, plus you can stream it to a live global audience via Youtube at the same time. The USB 3.0 output of LIVEPRO L1 V1 connects to any computer and looks like a built in webcam, so all streaming software for social media platforms work! With up to 4 HDMI inputs you can set up multiple camera angles such as wide shots along with independent close ups of each person in the performance. Or you can connect to a computer with a PowerPoint slide show, video clip playback, websites or gaming consoles. All switching is in real time so you can live stream to any social media platform such as Youtube, Facebook, Tik Tok, Douyu TV and many more!
Transition Effects via T-Bar Switching
The T-Bar of LIVEPRO L1 V1 support 14 transition effects and signal switching. Under T-Bar mode, pushing green button, it will flash and push T-Bar to the end (left or right), the source will be switched with selected transition effect. After switching, green turns to red. It is very suitable for video special effects switching of small outdoor scenes to meet the needs of video switching such as radio and television, outdoor sports events, school courseware production, etc.
Note: When T-Bar is not in the end position, no source can be selected.
Adding Video Effects
One of the benefits of LIVEPRO L1 V1 is the professional production values that are possible using the range of built in video effects. Push button SW to open up the transition effect menu, use knob to select the desired transition effect icon and push the knob to confirm. The "cut" in menu ensures an instant cut when switching source. You can also select the type of effect you want including mix, which does a smooth transition between sources, and dip which fades via a color during the transition. The in MODE menu allowing 0 .5S~ 5.0S settings. Plus, you can select PIP mode.
Package Dimensions
Dimensions: 260 x 130 x 80 mm
Weight: 2 Kg.
Οι τιμές δεν συμπεριλαμβάνουν ΦΠΑ.